Morning all
I know i have been a bit of a bad blogger lately but i had a few personal problems and needed to take a break but i think I'm over it now and am looking forward to getting crafty again.


As you all know i have been very lucky to be chosen to join the team at Joanna Sheen Challenges
Here is my first card
Our theme for the next 2 weeks is Embossing this could be dry or wet
For my card i chose this cute image from the Joanna Sheen - House Mouse triple CD which you can purchase from Joanna's online store
HERE
if you haven't got this CD you must it's absolutely brilliant.
The backing paper on the inside is also from the CD
I chose to do both dry and wet embossing but sadly you can't see the wet that's all round the tag but i assure you it's there.
I hope you will pop over and join us as 1 lucky winner will win a voucher of £15 to spend at Joanna's online store
To be in with a chance to win the voucher you must use a Joanna Sheen image
.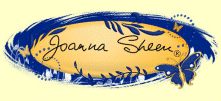 Hope you like it
Shaz xx